Seven Viking Days
"A gorgeous presentation of Viking vignettes that will interest adults as well as children."
(Midwest Book Review)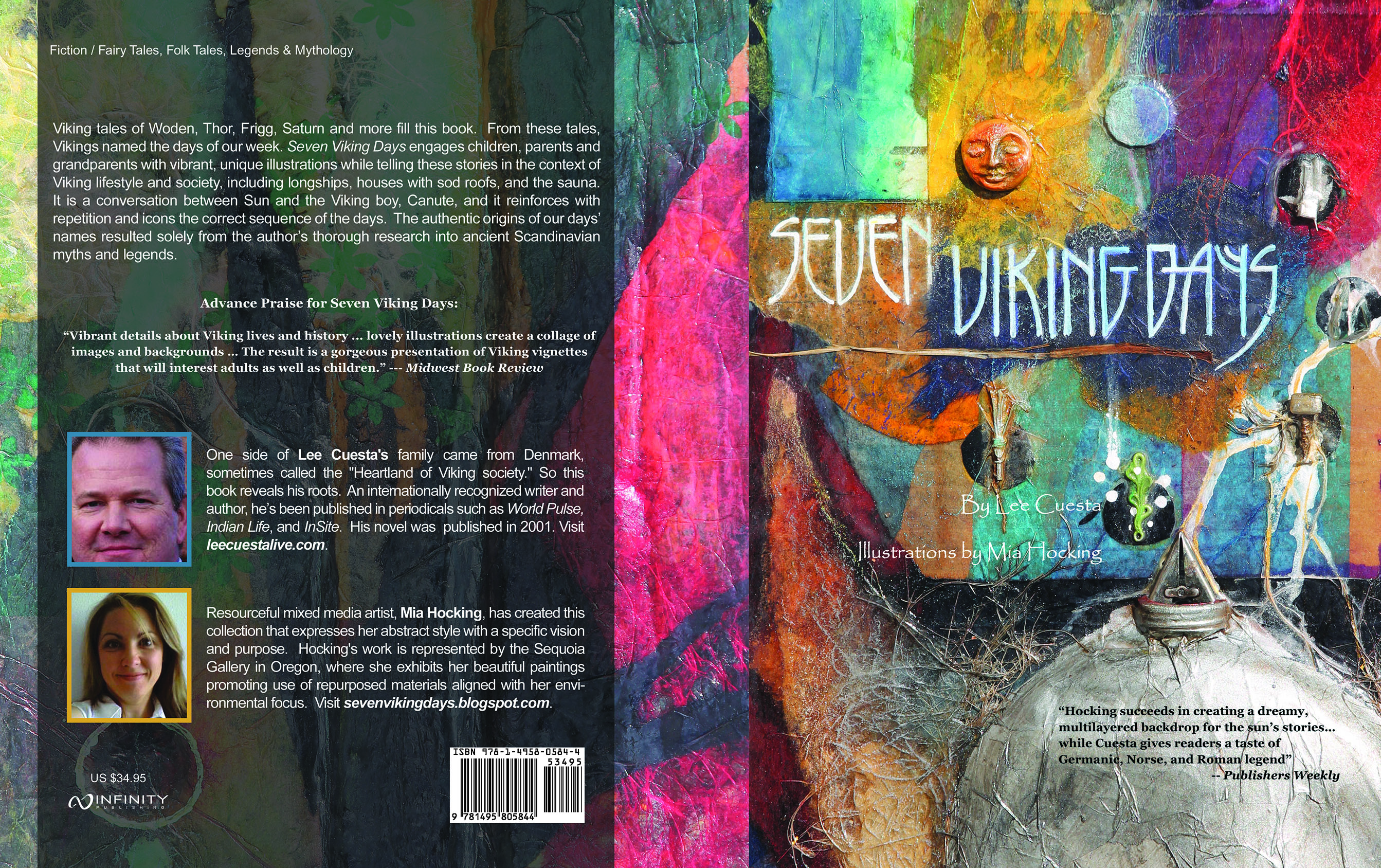 Seven Viking Days is a full-color children's picture book with truly unique, vibrant illustrations by the artist, Mia Hocking. I am Lee Cuesta. I'm a journalist and author, and also a grandparent and Baby Boomer. For several years, I wanted to write a book to help children — including my grandchildren — learn the days of the week, along with their correct sequence. When I mentioned this to a colleague, he replied that our days have names with Norse origins. It clicked in my mind! A conversation between a Viking boy, named Canute, and Sun, who explains to him the origin of each day's name. I also wanted to create a book that engages not only the children, but their parents and grandparents as well. With Mia's work, we accomplished this!
I am so grateful that I teamed up with Mia, whose style of artwork brings authenticity to the ancient Scandinavian mythology. This book is a treasure for grandparents and Baby Boomers like me, who love to cozy up with their child and read through a book that you both will love due to the luscious illustrations and the captivating stories. The stories it tells reveal the authentic Norse origins of the names of our days. Of course, it's also a book for moms and dads with young children who are at the age to understand the names of the days, along with their correct sequence, which is reinforced seven times throughout the book.
Seven Viking Days is full-color interior, hardcover, 8 1/2 by 11 inches, in the traditional 32-page format for children's picture books. Viking tales of Woden, Thor, Frigg, Saturn and more fill this book. From these tales, Vikings named the days of our week. Seven Viking Days engages children, parents and grandparents with vibrant, unique illustrations while telling these stories in the context of Viking lifestyle and society. It is a conversation between Sun and the Viking boy, Canute, and reinforces the correct sequence of the days. The authentic origins of our days' names resulted solely from the author's thorough research into ancient Scandinavian myths and legends.
Reviews:
By D. Donovan, Senior Reviewer, Midwest Book Review
Seven Viking Days offers up Viking tales of Thor and others in a hardcover full-color children's picture book that gathers these tales under one cover and adds vibrant details about Viking lives and history.
It would have been all too easy to just present Viking folklore alone; but the added value of this approach is that it tailors its stories to reveal Viking lives and society and thus takes the folktale format a step further by creating a lively history.
Mia Hocking's lovely illustrations create a collage of images and backgrounds to accompany text that will lend to both parental read-aloud and leisure enjoyment by kids with basic reading skills who have moved beyond the one- or two-line elementary picture book format.
From the origins of Tuesday in 'Tiu's Day' to how other days of the week and Scandinavian roots are still present in modern culture, Seven Viking Days uses repetition, icons for the days, discussions of days' names and their roots in legend and story, and more.
The result is a gorgeous presentation of Viking vignettes that will interest adults as well as children.
In Publishers Weekly:
Combining abstracted mixed-media illustrations and snippets of European legend, Cuesta recounts the origins of the names of the days of the week. After a Viking boy named Canute wakes one morning, the sun describes the stories behind the days' names. "Without me, no plant or animal could survive on a dark and frozen earth," says Sun, a fuzzy-edged orb with a smirking smile. "That's why the first day bears my name." Monday is named for the Moon, while the others "celebrate your Mighty Ones," as Sun explains. They include Tiu, who loses his hand to the "monster wolf" Fenrir; Thor, ruler of the sky; and Queen Frigg, Friday's namesake, who mourns the death of her son, Baldur. Blending papers, paints, and collaged objects, Hocking succeeds in creating a dreamy, multilayered backdrop for the sun's stories, while Cuesta gives readers a taste of Germanic, Norse, and Roman legend. Ages 4-8. (BookLife)
Reviewed by Publishers Weekly on July 31, 2015. Here is the link: http://booklife.com/pwreview/202412
There is also a video with Seven Viking Days being read aloud, like LeVar Burton or Mister Rogers, while the illustrations appear. This video is available on my YouTube channel, Lee Cuesta Live (leecuestalive). Here is the direct link: https://www.youtube.com/watch?v=YDOrsTHTEtQ&t=36s
Also there is an entire website dedicated exclusively to Seven Viking Days! There you will discover lots more photos and videos, plus contests, merchandise, and marketing updates. There you can post your own review by leaving a comment. Or email your review to me at info@leecuesta.com, and I will post it on the website. So be sure to check it out! This is the link: http://www.vikingdaysbook.com/
We successfully celebrated the book's Launch Party at an outdoor event sponsored by a local bookstore on the original publication date, including refreshments, decorations, costumes, balloons, and officially published books ready to sell and autograph. Now you can enjoy Seven Viking Days together with your own grandchildren — or children! Furthermore, we'd love this special book to be in the hands of grandparents and parents, including yourselves, throughout countries worldwide including Canada, the UK, the USA, and India. With Seven Viking Days, along with my earlier novel, Once: Once, Lee Cuesta Enterprises and Associates has joined the ranks of the independent publishers' revolution! Your participation on social media, along with posting your reviews at sites like goodreads and amazon, will help make the global marketing of this awesome book a reality! If you choose to do so, Mia and I want to thank you very much for your partnership.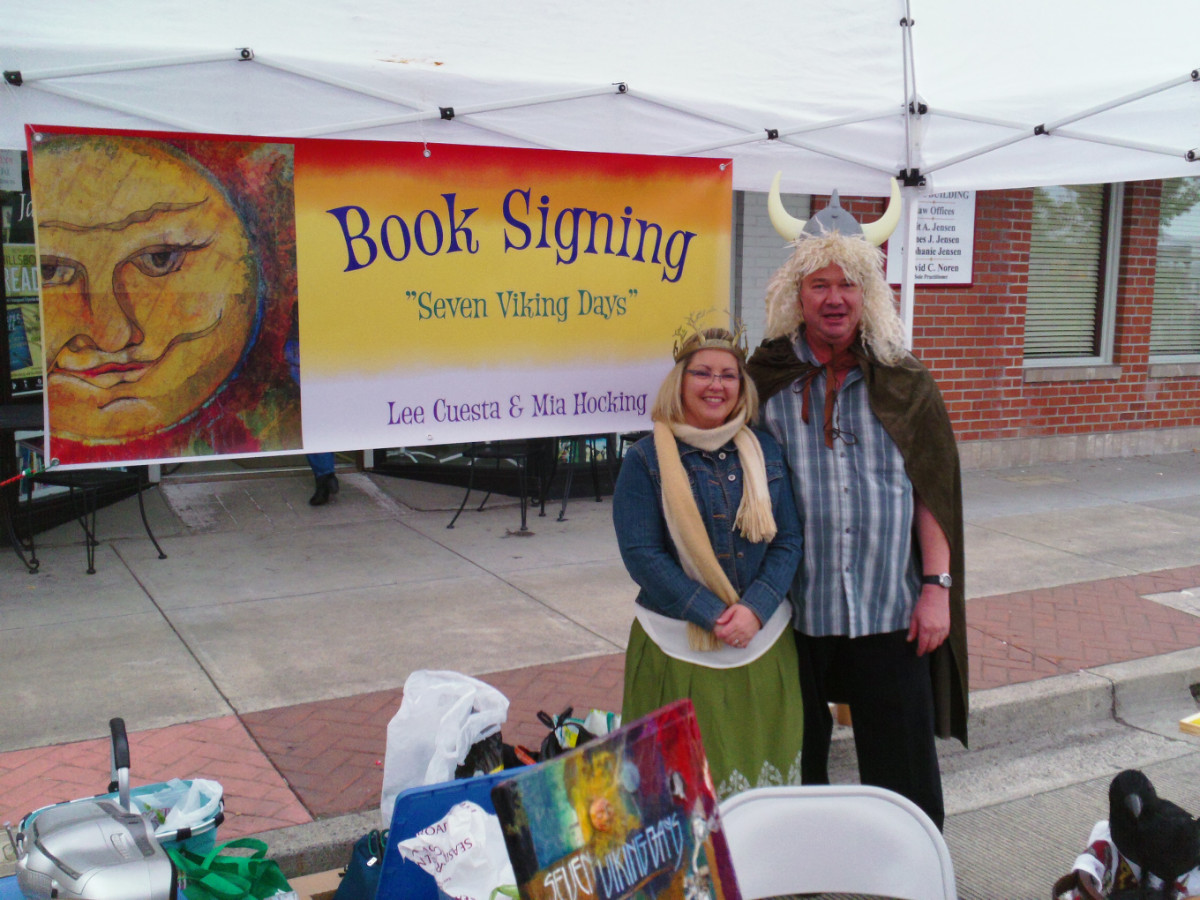 Seven Viking Days is available via multiple e-commerce venues online. To order it directly from me, either utilize this link, https://leecuesta.myshopify.com/, or contact me at info@leecuesta.com.